14 July 2021
Posted by:

ismaila

Category:

ARINWA activity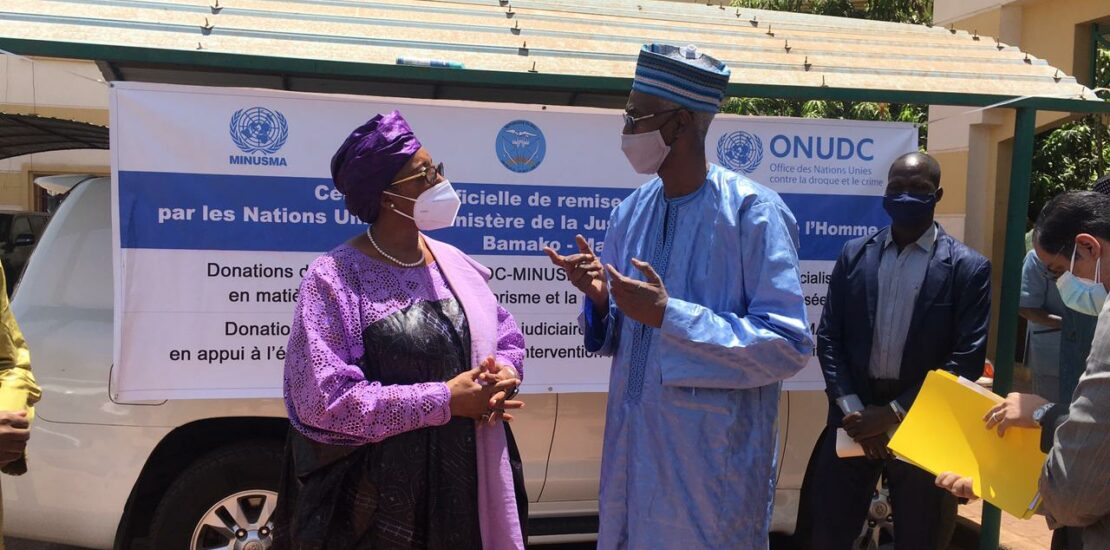 BAMAKO UNODC has donated vehicles, computer equipment, cameras and dictaphones to the Malian Ministry of Justice and Human Rights and the Specialized Judicial Pole (PJS) to help improve the investigation and judicial proceedings of Malian judicial authorities in terrorism cases. The donated vehicles include 4x4s and motorbikes.
The PJS tries crimes against humanity, war crimes and terrorism, and has a specialised intervention brigade to conduct its own investigations. However, the SPJ has little or no transport to conduct investigations in remote areas, and suspects' files often lack tangible evidence due to the lack of evidence-gathering tools. Computer equipment was particularly needed outside the capital.
The equipment will be used to strengthen the criminal justice response of the Malian authorities in the fight against terrorism, transnational organised crime and other serious crimes that disrupt the peace process.
The donation was made, thanks to a contribution from the United States and funding from the United Nations Stabilisation Mission in Mali (MINUSMA), in the presence of the Minister of Justice, Malian authorities and the Deputy Special Representative of the Secretary General of MINUSMA. 
| | |
| --- | --- |
| "By responding to the needs expressed by the specialised services, particularly in terms of mobility, but also computer and office equipment, this donation makes it possible to provide the basic tools necessary for a better adapted capacity to deal with cases related to terrorism and organised crime," said Mbaranga Gasarabwe, the Deputy Special Representative of the Secretary General of MINUSMA. | |
She also stressed that "the donation of vehicles by the joint MINUSMA/UNODC project will enable the PJS to move throughout southern Mali, including arriving quickly at crime scenes."
While MINUSMA forces were targeted by a recent terrorist attack, the security situation in Mali remains a concern. The terrorist threat is increasingly affecting local populations, with a firm territorial presence of Jama'a Nusrat ul-Islam wa al-Muslimin (JNIM) and the Islamic State in the Greater Sahara (EIGS). The fight against terrorism is therefore one of the priorities of the Malian authorities.
This handover ceremony also illustrates the important work that UNODC has been doing with MINUSMA since 2015. UNODC continues to assist the Malian authorities in bringing their national legislation in line with the international legal instruments on terrorism. It has also regularly organized, together with MINUSMA, workshops with Malian authorities working in the justice sector to develop investigative and prosecutorial skills to deal with terrorism cases. Activities will continue throughout 2021.