14 July 2021
Posted by:

ismaila

Category:

ONUDC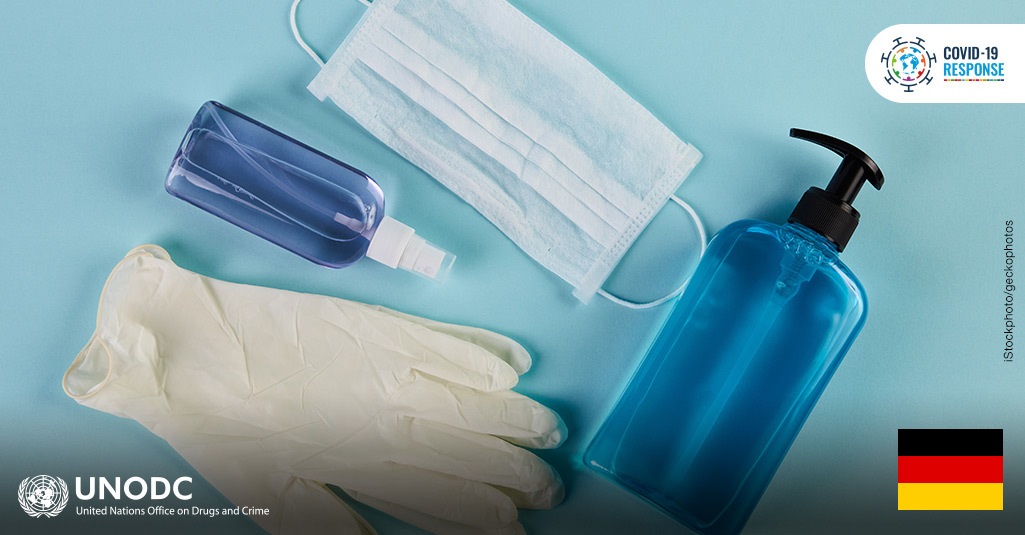 Dakar – The United Nations Office on Drugs and Crime (UNODC) Regional Office for West and Central Africa (ROSEN) is grateful to the Federal Republic of Germany for its commitment to addressing the COVID-19 crisis in West Africa.
As early as February 2020, with the onset of the COVID-19 pandemic in the region, UNODC was keen to respond to the need for support to law enforcement agencies to continue their work under safe and sanitary conditions and thus prevent the spread of the virus within their ranks and among the wider population.
As part of its annual contribution to the "UNODC project to support the Economic Community of West African States (ECOWAS) and Member States in West and Central Africa in the design and implementation of drug control and crime prevention strategies" (XAMU50), the Federal Republic of Germany agreed to reallocate some of its funding to UNODC's activities in the response to the COVID-19 pandemic.
Germany's generosity and responsiveness have thus enabled UNODC to provide personal protective equipment to law enforcement agencies in Burkina Faso, Cabo Verde, Gambia, Ghana, Senegal and the police component of the G5 Sahel to ensure continuity in the fight against drug trafficking, transnational organised crime and terrorism.
| | | | | |
| --- | --- | --- | --- | --- |
| | | | | |
| Equipment handed over to the G5 Sahel in May 2020 for the benefit of the Joint Force's provost brigades. | Equipment handed over in November 2020 to the Ghana Police Service and the Ghana Immigration Service. | Equipment handed over to the Government of Burkina Faso in December 2020 for the security forces. | Equipment received in January 2021 by the Ministry of Justice and Labour of Cabo Verde for the judicial police and prison services. | Equipment handed over in February 2021 to the Senegalese Ministry of the Interior through the General Directorate of the National Police. |
The exceptional situation created by the pandemic and the need to preserve the health and safety of the population also prompted UNODC to develop a training programme for law enforcement officers on the safe management of a health crisis. Thanks to the financial support of Germany, UNODC wished to set up, in coordination with other UN agencies (WHO, OHCHR, UNICEF, UNFPA, IOM, UNHCR, UN WOMEN), a training of trainers programme covering all aspects necessary for the proper management of a health crisis. The first one has already taken place in Mauritania and other countries (Côte d'Ivoire, Gambia, Ghana, Senegal) should also benefit from it during 2021.
First training of trainers organised by UNODC in November 2020 on the management of the COVID-19 pandemic by Mauritanian law enforcement agencies (national gendarmerie, national security, road safety group and national guard) – in partnership with WHO, UNICEF, OHCHR, UNFPA and UNHCR.